1C: is a universal software system both for installation in the Cloud and for installation in the company's infrastructure - In Permise solution. The system allows you to automate different types of accounting - financial, operational, management and more. We have ample opportunities to meet the various needs of modern business. This is achieved by flexibly adapting the system to the specific needs of companies and business processes.
1C is more than a solution for automating fixed business rules. Instead, it is a collection of software tools used by developers and users. The system can logically be divided into two main components that are closely related: business applications (configurations) and the platform on which business applications are developed.
The development platform includes application servers, business components (visually customizable blocks) and IDEs. Business applications running on the platform are solutions for small, medium enterprises and corporate customers - ERP / MRP, HR, logistics, financial consolidation, as well as vertical solutions for many industries.
Platform 1C: Enterprise consists of the following blocks:
A layer of data and process that provides a system of functions such as support for various databases, application servers, web server components, and web services.
Business components - visually predefined custom blocks (templates) that are widely used in corporate applications - directories, documents, accumulation registers, accounting registers, calculation registers and business processes.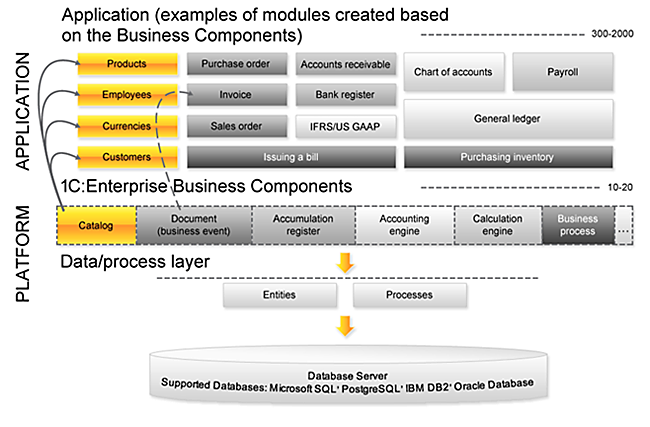 The left diagram shows an example of integrated use of 1C platform capabilities:

Directories - keeping a list of customers, products, etc.
Document - business activities such as orders, sales orders or invoices.
Accumulation registers - the accumulation of transactions such as receivables or bank payments.
General ledgers - bookkeeping of accounting documents - are usually used to create specialized books, as well as general ledgers.
Accounting registers - for the calculation of earnings.
Business process - used throughout the system.
Using the business components of the 1C: Enterprise platform significantly reduces the costs of developing corporate applications, as it allows the company to focus only on the implementation of its specific business processes, and not to build basic business functionality from scratch.
The 1C: Enterprise platform has the following advantages:
It significantly reduces technological costs, guarantees a high level of ergonomics and productivity of corporate software systems.
It allows experienced users to automate certain business processes independently.
Accelerates and standardizes the development of business applications, their customization and support.
It provides complete openness of the user interface and solution code, allowing you to better understand and modify business processes.
Enables integration with existing 1C applications and independent systems.
Supports web services, ODBC, COM and so on.
Supports the desired architecture: Windows / Linux, MS SKL, PostgreSKL, IBM DB2 and Oracle DB.
Delivery options for platform 1C: Enterprise 8:

"For installation in infrastructure", with the possibility of working as a regular application or via a "thin client" or "web client" on Windows and Unix platforms.
"Accommodation in the cloud."
To work on tablets on Android and iOS platforms.